When Instagram launched its Reels update two years ago, it signified that Instagram was no longer going to be just a photo-sharing app. Video content was rising in popularity thanks to TikTok, and it isn't going anywhere.
Brands who use Instagram to promote their business have to get on board if they want to be seen by users.
In turn, brand's social media strategies are transforming. Gone are the days of simply uploading an eye-catching still image within your social strategy. Bite-size, punchy and entertaining videos is a modern way of grabbing the attention of your audience. This means plenty of engagement for your brand.
If you haven't yet dipped your toe into the world of video content yet, Reels is a great place to start.
Here are three ways your business could benefit from using Reels:
Your brand will reach a wider audience
20% of all activity on Instagram is related to Instagram Reels, which means it is currently the hot favourite for the Instagram algorithm. If you create a Reel, you will be rewarded by Instagram with reach.
When you post a Reel, to promote a new product, for instance, your Reel will be recommended to users who don't already follow you by Instagram.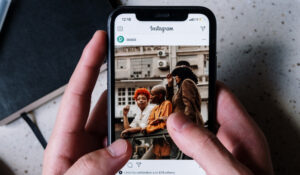 Creative freedom when promoting a product/service
Reels give you the tools to showcase your product/service by bringing them to life, something a static image just cannot do!
The creative freedom Reels offers a brand means you can support your sales team with fun and engaging content.
Tutorials and how-to videos deliver a more in depth yet concise look at your product. Or you could put a product in a creative and unique setting. This will make it really stand out to your audience.  
Video content such as this, will help to 'influence' your audience to buy into your brand. 
You don't need a big budget to create Reels
All you need is a smartphone to start producing Reels for your brand. The most engaging Reels are those that are informal and speak to the audience in a more 'off-the-cuff' manner. This all helps to put a face to the brand, which allows you to 'speak' to your customers at a more informal level.
The creative tools and the library of music helps your footage come alive. This means it is both a cost and time-effective way of creating content for your business.
Want to know more about how Reels could boost your business? Contact our team of social media experts who can get you started on your video content journey.