While Facebook, Instagram, and Twitter often steal the spotlight, one platform that shouldn't be overlooked is Pinterest. As social media becomes more crowded than ever, it's crucial that brands have a strong social media presence. 
For some brands, this might mean branching out onto new platforms that they have not yet used. With over 445 million monthly active users, Pinterest has emerged as a powerful marketing platform for businesses of all sizes. 
This visual search engine allows businesses to showcase their products and services in a visually appealing manner, while also driving traffic to their websites.
Pinterest offers a unique opportunity to connect with potential customers who are actively seeking inspiration and ideas. With its highly engaged user base, Pinterest has become a go-to platform for businesses looking to increase their reach and drive sales.
In this article, we will explore the five main reasons why your brand could benefit from having a presence on Pinterest. From case studies of successful campaigns to specific examples of tools that can be used, we'll provide you with all the information you need to leverage the power of Pinterest for your brand. So, let's dive in!
1. Pinterest has a massive user base
Despite its reputation as a platform catering primarily to women, Pinterest is far more than a place for browsing, shopping, and exchanging ideas. 
It is, in fact, a highly sophisticated search engine that combines social networking and search functionality. With more than 70% of its users being women, it's a great place to be for brands that target a majority female audience.
However, it's not just about user numbers. Pinterest is the 10th largest website in the world and the fastest site ever to reach 10 million unique monthly users since its launch in 2010. 
The platform has evolved into an advertising tool with projected revenue of over 4 billion dollars by 2026, making it too effective for brands to ignore. Whether your business offers a product or service, Pinterest is an advertising powerhouse that could be extremely useful for your brand to harness.

2. Pinterest users are more likely to make purchases
Brand content on Pinterest has a significant influence on consumer behaviour. An extremely impressive 83% of weekly Pinterest users have reported making purchases based on the brand content they see on the platform. 
This is the difference between Pinterest and other social media platforms. It functions more as a search engine, rather than focusing on connections between users in the same way as other platforms.
This means that many users are already in the shopping mindset when they open Pinterest. They also have the means to make a purchase if they wish to do so. In the UK, 31% of millennials with an income of over £100,000 are on Pinterest.
In other words, the chances of a user buying your product based on a great pin you have created are high, even higher than what it would be on other social media platforms like Instagram and Facebook. 
This makes Pinterest a powerful tool for brands to showcase their products or services to potential customers and drive sales.
3. Pinterest is a powerful visual search engine
Even though Pinterest users have a higher buyer intent than users of other social media platforms, there is one way that it does not differ from the norm. 
Much like other platforms, Pinterest is not a place for hard selling.
Brands that try to push sales too aggressively on the platform are likely to fall short. Instead, marketers should aim to inspire and engage their audience through visually appealing Pins.
For example, if your brand sells jewellery, you might create Pins that showcase different ways to style and wear your pieces. You could also create boards that feature complementary products and accessories to go with your jewellery. 
The key is to create content that inspires your audience and helps them envision how your products could fit into their lives. 
By using Pinterest in this way, you can foster creativity and imagination, and build a community of engaged followers who are more likely to become customers in the long run. 
So if you're looking for a place to hard sell your products, Pinterest may not be the best fit – although you are unlikely to find a social media platform that would be. But, if you can tap into the platform's focus on inspiration and ideas, it could be a powerful tool for your brand.

4. Promoted Pins have a proven track record
If you're looking to extend your brand's reach, then Promoted Pins may be a great option to consider. 
Similar to sponsored posts on platforms like Facebook and Instagram, Promoted Pins are paid ads used by business accounts. They appear in a user's home feed, search results, and category feeds, giving your brand greater exposure to potential customers.
If you think your brand might be the right fit for Pinterest, then Promoted Pins are definitely worth investing in. Whilst social media marketing can be successful when done organically, the success rate can be significantly higher with paid advertising.
Pinterest users are unique in their desire to explore and find new brands, products, and ideas. This makes Promoted Pins a natural fit for the platform since they don't interrupt the user experience. Instead, they enhance it.
Given that Pinners are often in a shopping mindset, they are more likely to appreciate ads on Pinterest than on other platforms.
In fact, on average, Pinterest ads deliver a 2x higher return on ad spend. They also deliver a 2.3x cheaper cost per conversion. This is a significant opportunity for brands to reach and engage their target audience in a cost-effective way.
5. There are already many examples of successful brands on Pinterest
Firstly, one of the important parts of Pinterest is the difference between regular Pins and Idea Pins. 
Idea Pins are a new type of Pin on Pinterest that allow brands to create a multi-page, narrative-style Pin. Unlike regular Pins, Idea Pins provide a more immersive experience with larger images and more room for creative elements. These are the type of Pins that most brands use.
Idea Pins are better than regular Pins. This is because they allow brands to showcase their products or services in a more engaging and interactive way. 
For instance, with Idea Pins, brands can share step-by-step tutorials, recipes, how-to guides, and other creative content.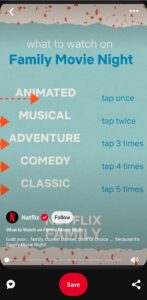 Pinterest Brand Case Study: Netflix
Netflix has created an engaging and interactive Idea Pin that showcases the platform's potential for creative marketing. The Idea Pin features five frames that the viewer can tap through, adding an element of interactivity. 
The Pin asks viewers to tap a certain number of times to get the type of show they're interested in. In doing so, users are given the illusion of control, making it quick, clever, and memorable. It's also a great way for marketers to increase the number of clicks on their Pins!
This is an excellent example of engaging content that captures the attention of potential customers and drives engagement.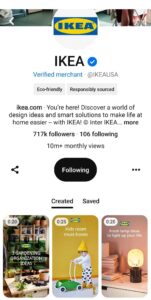 Pinterest Brand Case Study: IKEA
IKEA is another prime example of a brand that has leveraged Pinterest to its advantage. Its IKEA USA page has 10m+ monthly viewers and 500K+ followers. It's clear that the furniture giant has established a significant global presence on Pinterest. 
IKEA's success on Pinterest can be attributed to how the platform's audience is already engaged in home decor projects. Therefore, users are often already in the planning stages of purchasing specific products.
In addition to capitalising on Pinterest's engaged audience, IKEA has embraced the platform's new advertising formats. These include shopping ads. 
By utilising these ads, IKEA has been able to showcase their products to users in a visually compelling way. This has helped them to drive traffic to their website and increase sales.
Conclusion
In conclusion, Pinterest offers businesses a unique opportunity to connect with a highly engaged audience of shoppers and creatives. 
By utilising the platform's various features, such as Promoted Pins and Idea Pins, businesses can extend their reach and increase their return on investment.
Additionally, it's important to approach Pinterest with a strategy that focuses on sharing ideas and inspiration rather than hard selling. 
People often overlook Pinterest in favour of more popular social media platforms like TikTok, Facebook, and Instagram. However, it has an audience of hundreds of millions, and a unique platform that allows marketers to showcase their brands in creative ways.
By incorporating Pinterest into your overall marketing plan and promoting your presence on the platform, you can tap into a new audience and potentially see a boost in your business's success.