User-generated content (UGC) has become the cornerstone of successful brand engagement, enabling a mutually beneficial relationship between brands and their fans. Whether it's through micro-influencers, customer advocates, or celebrity endorsers, UGC fosters a genuine connection. 
Brands have the opportunity to connect with their fans organically, while fans gain recognition, exposure, and an increased following. Particularly since the pandemic, UGC has revolutionised the way brands and consumers interact on social platforms.
User-generated content refers to unpaid social posts shared by individuals when they're using or praising a product or service. Examples include a friend's excited tweet about an unforgettable hotel stay, a brand sharing captivating Instagram Stories from customers at an event, or a TikTok user raving about the best lipstick they've ever used.
The true power of UGC lies in how brands leverage this content. Despite its organic nature, sharing and resharing UGC can have a significant reach and impact for both brands and consumers. Brands looking to drive bigger results, however, will almost always get better results from paid social media.
In this article, we'll provide you with valuable strategies and tools to unlock the full potential of UGC and build a thriving community of brand advocates.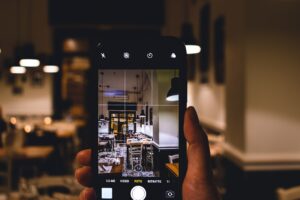 Who is making UGC?
Customers.

UGC content primarily comes from customers who willingly share their experiences and thoughts about a brand. They do this through mediums like TikTok unboxing videos or positive Instagram posts. These customers can be motivated by their own choice or when the brand actively encourages them to generate UGC.

Brand Loyalists.

Another valuable source of UGC content is brand loyalists: the passionate and dedicated customers who truly adore the brand. Engaging with this group and requesting specific UGC content can yield great results.

Employees.

Employee-generated content (EGC) is also valuable as it showcases the brand's story and authenticity. Behind-the-scenes photos of employees packing orders or videos of team members expressing their love for the company contribute to establishing a strong brand identity that resonates on social media.

Influencers.

In addition to organic UGC, there are UGC creators who produce sponsored content designed to appear authentic while promoting a specific business or product. These creators are paid by brands to emulate the style of traditional UGC, effectively blending advertising with a genuine feel. However, the 'sponsored' label on this content can often feel quite inauthentic, which can defeat the objective.
UGC creates a sense of authenticity
In today's competitive online landscape, brands face a tough battle to capture audience attention. This is especially true with Gen-Z buyers, who are highly selective in their brand interactions and purchasing decisions.
Authenticity holds immense importance, not just for consumers but also for marketers. According to 60% of marketers, both authenticity and quality are crucial for successful content. When it comes to authenticity, nothing beats user-generated content from your own customers.
Attempting to fabricate UGC or run inauthentic campaigns is a risky move. Audiences can quickly detect insincerity, leading to significant damage to your brand reputation. Instead, prioritise UGC from three key sources: your customers, brand loyalists, and employees.
Since people inherently trust other people, it's vital to recognise UGC as the modern-day equivalent of word-of-mouth marketing.
Nowadays, consumers are much more likely to perceive UGC as genuine compared to brand-created content. As such, now is the perfect time to invest in a social marketing strategy driven by authenticity.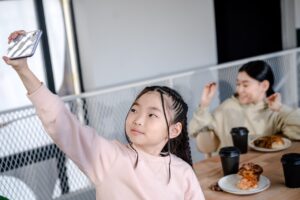 Establish specific goals for your UGC campaign
Just like any other marketing campaign, establishing specific goals for your user-generated content can ensure a successful strategy. 
While UGC is often spontaneous and casual, brands can leverage it strategically as a component of their overall strategy. By setting specific goals, you can maximise the impact and effectiveness of your UGC strategy. Here are some examples:
Boost brand engagement:

Use likes, comments, and mentions across your social channels as indicators of successful UGC campaigns.

Influencers spark conversations with their content, and leveraging their reach can contribute to increased engagement. Utilise analytics tools like Meta Business Suite or Twitter Creative Studio to measure and benchmark your efforts effectively.
Improve conversion rates:

The combination of UGC and social commerce is a potent force. In competitive industries, consumers turn to social media for product research. Prioritise generating conversions through UGC, such as reviews, unboxing showcases, and social media takeovers during your campaigns.

Educate users:

Monitor and track common questions and concerns about your business on social media. By actively listening to conversations, you can assess whether these enquiries persist or change after implementing your UGC campaign. Influencers excel at providing clear answers and cutting through the noise, making them valuable assets in educating users.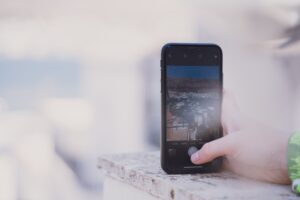 Provide the tools for users to create their content
One of the best ways to encourage users to create UGC is to make the process as easy as possible. It should be almost effortless, and something that users will actively want to share with their followers.
An excellent example of this is the marketing for the 2023 Barbie movie. Users were invited to create their own Barbie poster and share it on social media. It ended up becoming a meme and going viral.
Creating your own poster is easy, thanks to the convenient Barbie Selfie Generator website created by Warner Bros. This platform provides a template that allows you to design a Barbie poster resembling those from the actual movie.
Users simply have to upload a photo of their choice, and the website will generate a personalised Barbie poster and tagline. The process is user-friendly, taking care of all the technical aspects for you.
The humour and ridiculousness of this campaign naturally generated a high level of engagement. 
By spreading awareness and encouraging fan participation in creating their own posters, this marketing campaign for Barbie fosters a sense of connection between consumers and the movie, resulting in increased engagement.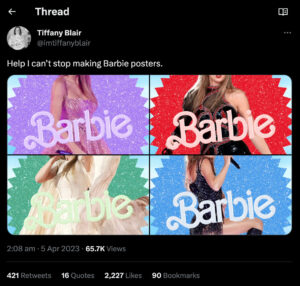 User-Generated Content: Conclusion
In conclusion, embracing user-generated content provides a unique opportunity to foster deeper connections with your audience. This makes it possible to cultivate a thriving community of brand advocates. 
However, it's important to remember to obtain consent before republishing or using customer-generated content. Asking for permission demonstrates appreciation for the original poster's content and builds excitement around sharing it with your audience. Moreover, it helps you avoid copyright issues.
When sharing UGC on your social media channels, remember to provide clear credit to the original creator. This involves directly tagging them in the post and specifying whether you are using their visuals, words, or both.
By encouraging and amplifying the voices of your customers, you not only gain valuable insights and social proof, but also create a sense of belonging and authenticity. Engage your audience, celebrate their contributions, and ensure their voices are heard.
Through this symbiotic relationship, you'll not only strengthen your brand's presence but also forge lasting connections with those who matter most – your loyal followers. So, seize this opportunity to use UGC to build a stronger community that will propel your brand to new heights.