As a social media marketer, coming up with fresh content ideas can be a daunting task. With so much content on social media already, it can be hard to come up with original ideas.
But, with the right tools and strategies, it doesn't have to be. There are many different tools that you can use to come up with ideas that showcase your brand in the best way.
Perhaps the most exciting thing to remember when you're running low on ideas is that the possibilities are endless. From brainstorming with your team to using social media listening tools to monitor trends, there are numerous ways to keep the ideas flowing.
In this article, we'll explore some specific examples and tools to help you find fresh content ideas for your social media platforms.
Use Social Media Listening Tools
Social media listening tools are a great way to stay on top of the conversations happening in your industry. 
They allow you to track mentions of keywords, hashtags or competitors on social media, which can give you insight into what people are talking about. 
Tools like Hootsuite Insights, Brandwatch and Talkwalker can help you discover trends, identify popular topics and monitor brand sentiment, all of which can inspire new content ideas.
By analysing the data collected, you can uncover insights into customers' needs and preferences, which can be used to inform your content strategy. This enables you to create timely and relevant content that resonates with your audience.
Check Out TikTok Creative Center
TikTok is one of the fastest-growing social media platforms out there, so if your brand doesn't have a TikTok profile yet, it probably should do.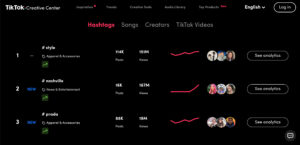 There are a wealth of creative tools on TikTok that can help you come up with new content ideas. The TikTok Creative Center is a hub of resources that offers insights into trending content and creative inspiration. 
It includes a library of music, sounds, effects and editing tools to help you create engaging TikToks.
Take Advantage of Hashtags for Content Ideas
Since not all platforms have a tool like TikTok Creative Center, hashtags are a great way of finding trends manually.
Hashtags can be a powerful tool for discovering new content ideas on social media. By searching for hashtags related to your brand or industry, you can find popular topics, trending conversations and user-generated content that you can use to inspire your own posts. 
There are third-party tools like Hashtagify and RiteTag, which can help you discover popular and relevant hashtags. They even suggest related ones you might not have considered yet.
Monitor Your Competitors
While you don't want to copy your competitors' content outright, keeping an eye on what they're doing can help spark new ideas for your own social media channels. 
Look at their most popular posts and see what resonates with their audience. By analysing their content, you can gain insights into what type of content resonates with their audience. You could then potentially replicate those elements to attract your own audience. 
Additionally, you can identify gaps in your own content strategy and find ways to differentiate yourself from your competitors.
Find Inspiration from Meta Business Suite
The latest version of Meta Business Suite (as of March 2023) offers a personalised and highly effective recommendation format. This makes it a valuable tool for finding content ideas. 
By analysing the social media accounts your Facebook page follows and the content you publish, Meta Business Suite generates customised content ideas in the 'Similar to You' tab. 
To access this tool, go to the 'All Tools' menu and select 'Business Feed'. Take a look at the content that other businesses who are similar to yours create to inspire your own content.
Local businesses can use the 'Near You' tab to see popular content in their area. There is also a 'Popular' tab available in the Business Suite business feed. However, it doesn't provide personalised recommendations in the same way.
Look for Content Ideas in Your Own Analytics
Your own social media analytics can provide valuable insight into what content resonates with your audience. 
Take a look at your most popular posts, see what topics get the most engagement, and use that information to inform your future content strategy. 
Whilst you're looking at your past content, you could even consider re-purposing the most successful posts. For instance, you could get ideas for a new Reel from a carousel that had great engagement. You should also keep in mind that new features may have been released that you could use for fresh content ideas.
You can also experiment with different formats, like video or live streaming, to see what works best for your audience.
LinkedIn News
On LinkedIn for desktop, the LinkedIn News panel is pinned to the right of your feed. You can easily see how popular a topic is by the number of readers it has.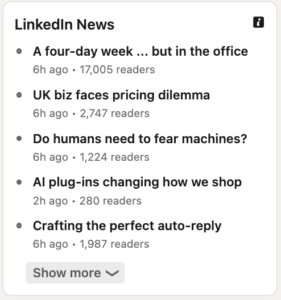 Clicking on a topic will show you a summary from a LinkedIn editor, as well as a range of popular posts related to the topic. You can follow creators directly from this feed.
You could apply filters to your news feed to search for topics that are relevant to you or your business, this feature has lost much of its functionality in recent months. So, you might find manually reviewing the main LinkedIn news feed more effective instead.
Keep it Simple!
When it comes to social media ideas, some businesses just might be luckier than others.
Creating universally-loved content doesn't always have to be that complicated. For instance, take a look at this TikTok from Chessington World of Adventures Resort, which has over 588K views.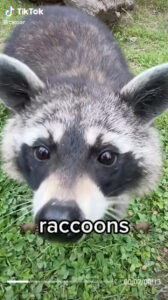 Cute animal videos have a way of capturing the hearts of pretty much everyone, regardless of demographics like language, location, culture, or interests. 
With this in mind, Chessington have simplified their strategy by giving their audience what they love: cute animal videos. It's a simple approach, but it works. 
Content Ideas for Social Media: Conclusion
In conclusion, coming up with fresh content ideas for social media can seem overwhelming. But with the right tools and strategies, it can be a fun and creative process. 
Your content is one of the most valuable assets for your business. Social media is the tool that helps you showcase it to your potential customers. 
Investing time and effort into creating engaging content for social media is crucial for building a strong online presence and establishing your brand's identity. Don't limit yourself by sticking to the same type of content. Rather, explore different options and track the results to see what resonates with your audience. 
By experimenting with different formats and tones, you can discover new ways to connect with your followers and stand out from your competitors.