You know what they say – Christmas is the most wonderful time of the year. And social media campaigns are no exception! We all have a memorable Christmas campaign that gets us into the festive spirit.
Marketing campaigns are a huge part of Christmas. In fact, the warm, happy and jolly Santa Claus figure that we know and love today was largely shaped by a 1931 Coca-Cola marketing campaign – decades before anyone had even heard of social media. 
So, if advertising had such a defining effect on how we celebrate Christmas even before we had a tool like social media which connects us all globally, imagine how impactful a powerful Christmas social media campaign can be!
Below, we've rounded down our top ten favourite Christmas social media campaigns to get you into a festive mood. And yes, Coca-Cola Santa does make an appearance!
1 – Starbucks Red Cups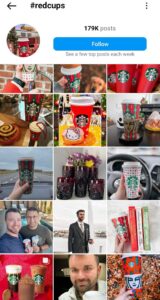 Starbucks bring out their red cups for Christmas every year. In all honesty, they've become a pinnacle of the festive season. Every year, Starbucks release a new festive design for these red cups. 
Customers are encouraged to share pictures of their drinks in the cups – and they're only more than happy to oblige in their droves. This is an incredibly powerful campaign. Consumers become brand advocates by creating their own organic posts that showcase the drinks that Starbucks sell.
By sharing their images, Starbucks gain recognition and users get a chance to be featured on Starbucks' social media channels. It's a win-win situation for everyone involved.
This campaign goes to show how important aesthetics are in an increasingly digital world. This is especially the case at Christmas time, when each brand wants to be more merry and festive than the others.
2 – Aldi's #KevinTheCarrot Campaign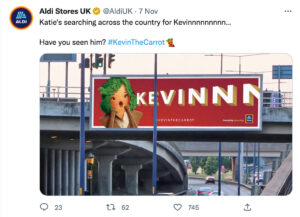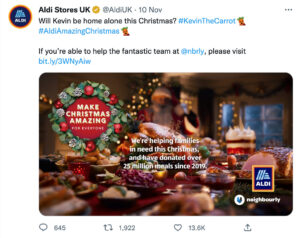 Aldi's #KevinTheCarrot campaign this year was a masterclass in creating a collective festive spirit through Christmas marketing. As part of their wider marketing strategy, Aldi use a series of cute and loveable vegetable characters. This includes the infamous 'Kevin the Carrot' that we all know and love.
For 2022 however, Kevin went missing! This resulted in a nationwide campaign where consumers were encouraged to search for Kevin – and social media played a big part in this. Many users have been uploading pictures of possible sightings of Kevin.
As seen in a number of campaigns this year, Aldi took note of the current economic climate. Instead of overt selling, they encouraged donations to Neighbourly – a platform that helps businesses donate volunteer time, funds and surplus goods to charities.
Additionally, another powerful aspect of this campaign is using the branded hashtag with an adorable 'Kevin the Carrot' emoji. These encourage more engagement, particularly with Gen Z users.
3 – McDonald's #ReindeerReady Campaign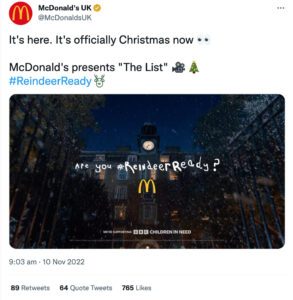 McDonald's campaign for this year focuses on a young boy who writes a Christmas list. He puts a lot of effort into it – only for it to blow away in the wind. The only part of it that is left is a piece that tore off in his hands: it's a picture of him together with his family.
This is part of the wider trend that we've seen this year. There's less of a focus on the commercial aspect. It's much more about raising positive brand awareness.
Similar to Aldi's #KevinTheCarrot campaign, McDonald's hashtag has been a recurring theme as part of their social media campaigns in recent years. 
Consumers are encouraged to buy a snack bag of carrots – otherwise known as 'Reindeer Treats' at this time of year – to be #ReindeerReady. This perfectly fits the brand personality that McDonald's have created for themselves. They're a fun, informal and playful brand. 
4 – Asda's #SpreadingChristmasCheer Campaign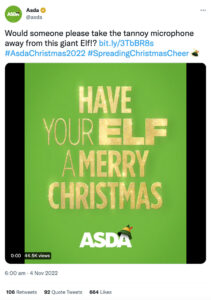 Asda has gone against the trend this year. Whilst most brands have been more restrained with the commercial aspect of their social media campaigns, Asda has gone big. The infamous Christmas film Elf is a tradition for many – so a great opportunity to tap into nostalgia for many. 
It's refreshing in some ways. Whilst it's important to remember that there is more to Christmas than commerciality, it's great to see a brand go with a bolder campaign.
They have even used the famous phrase from the film as their chosen branded hashtag. #SpreadingChristmasCheer is a key pillar of the film's plot, and as such, it resonates with many.
This uplifting and big-budget campaign has been successful, with great engagement across social platforms.
5 – John Lewis's #TheBeginner Campaign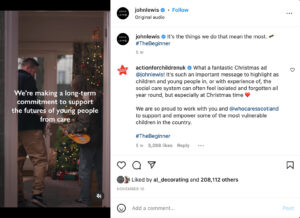 When it comes to Christmas time, the John Lewis Christmas campaign has become a tradition in the UK. 
Whilst the festivities are mostly centred around the department store's Christmas television advert, there's a lot of build-up to its release on their social media. The post revealing their ad had over 208,0000 likes on Instagram this year.
This year's campaign was particularly special. Recognising the current cost of living crisis, John Lewis decided against hard selling (which is never a good idea on social media, by the way.)
Instead, they opted to partner with a children's charity to support children in the UK care system. Sometimes, the most effective social media campaigns are those that simply generate positive awareness for their brand. A great festive and meaningful campaign!
6 – Coca-Cola Santa Campaign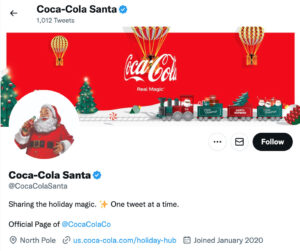 He's real! The Coca-Cola Santa has his own Twitter account. Complete with his very own blue tick. Need we say more?
And finally: Merry Christmas!
Christmas is a very exciting time for marketing. It's an opportunity for marketers to be creative and create some of their best campaigns: a lot of the most memorable marketing campaigns are from the festive season. It's definitely fair to say that marketing is responsible for a lot of that wonderful 'festive feeling' that we get at this time of year.
But of course, Christmas isn't just a commercial event – and with this in mind, we'd like to wish you a very Merry Christmas and a Happy New Year. We hope you enjoy the festivities with your loved ones, and we'll see you in 2023!