Meta, the owner of Facebook, has unveiled Threads, a highly anticipated alternative to Twitter. Designed to provide a "friendly" alternative to the troubled social media giant, Threads aims to address the challenges that have plagued Twitter since its acquisition by controversial tech billionaire Elon Musk.
Musk's decision to monetise previously free features on Twitter, coupled with extensive staff reductions and provocative posts, has drawn criticism from both consumers and businesses. The initially failed overhaul of Twitter's verification scheme, Twitter Blue, resulted in several brands falling victim to impersonation, further exacerbating concerns.
Threads has quickly gained momentum, amassing over 100 million users within just five days of its launch. Any platform that attracts such a massive user base in such a short span of time demands attention. It's evident that Threads has already garnered significant traction and holds immense potential.
Described by Zuckerberg as a 'text-based conversation app,' Threads enables users to create posts up to 500 characters in length, complete with links, images, or videos.
With Threads, Meta has a genuine chance to rival Twitter, especially if it can entice businesses to join the platform. If you're an entrepreneur heavily reliant on social media, you might be contemplating whether to hop aboard this bandwagon. Considering that over 10 million people signed up for Threads within the first seven hours of its launch, adding it to your to-do list could prove beneficial.
However, before making any business decisions, it's crucial to weigh the pros and cons. To help you make an informed choice, let's delve into the advantages and disadvantages of businesses joining Threads. By considering these factors, you can assess whether this platform aligns with your goals and objectives.

Advantages
1.
Threads has plenty of potential
Threads has quickly demonstrated significant potential, with analysts highlighting its ties to Instagram as a potential advantage in attracting users and advertising revenue away from Twitter. 
Notably, big brands like Billboard, HBO, and Variety wasted no time in setting up accounts moments after its launch. Additionally, Meta has actively pursued social media influencers, urging them to post twice daily on the platform, which could result in a substantial audience and heightened appeal for businesses and advertisers. 
With a staggering 30 million sign-ups on its first day, Threads offers businesses a vibrant and interactive space to connect with their audience. 
In this ever-evolving digital landscape, brands constantly seek innovative ways to reach and captivate their target audience. The arrival of Threads could potentially revolutionise businesses' customer engagement and sales practices. Therefore, if it does, you'll want to be on the platform as it's happening.
2. Early adopters are usually favoured by the algorithm
Early adopters of social media platforms like Threads often enjoy significant advantages, as evidenced by the experiences of individuals with substantial followings on Twitter, LinkedIn, or YouTube. 
Being an early user holds merit because when a social media platform is in its first stage, its primary objective is to attract a massive influx of users. As a result, it prioritises organic content over ads, providing unparalleled benefits in terms of impressions and engagement. This strategy aims to captivate users and foster loyalty. 
Threads will follow the same trajectory, and joining now not only secures your username of choice, but also allows businesses to reap the rewards of the platform's concerted efforts to win their loyalty. 
Embracing Threads early on presents a prime opportunity to leverage the algorithm and gain a competitive edge in terms of exposure and audience engagement.
3. Many brands are already making a success of Threads
Since its launch last Wednesday, Threads has already witnessed successful brand interactions and engagements. 
For instance, notable brands like Netflix, Lyft, Wendy's, Spotify, Rare Beauty, and Starbucks wasted no time in joining the platform to partake in real-time conversations and cultivate a strong follower base. 
Some brands are using the app as a direct replacement for Twitter, replicating their content from Twitter to assess its traction on the new platform, which has shown promising results. Additionally, brands are leveraging Threads to establish their unique brand voice and acquaint people with the platform in an enjoyable manner. 
As witnessed, the light-hearted banter between rival quick-service restaurants, a common occurrence on social media, has effortlessly transitioned onto Threads. Wendy's, renowned for their witty and humourous tweets, are already making their presence felt on the platform.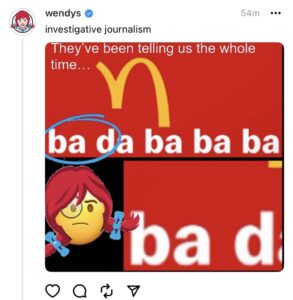 4. What have you got to lose?
If you're seeking business growth, you understand that opportunities for growth can arise unexpectedly. Threads presents a platform that could open new doors to potential growth. 
If you're feeling uninspired by TikTok or uncertain about the reach of your LinkedIn posts, Threads might be the solution you're looking for. It's worth running experiments on a new platform to explore what you can achieve. 
You might quickly encounter interesting influencers, amass a significant following and enjoy the accompanying bragging rights, or gain a client from your first post. Keep a close eye on the correlation between effort and outcome, adjusting your approach accordingly. 
So, if you're hungry for new avenues of business, have spare time, and understand the potential risks, consider Threads carefully. The key is to sign up, dive in, and observe the results.
Disadvantages
1. Threads has limitations in data and analytics for businesses
Whether it's Meta Business Suite, Twitter Analytics or Pinterest Business Hub, marketers are used to immediately quantifying the results of their efforts using analytics tools. 
However, it's been stated that currently, Meta has no immediate plans to integrate Threads with its Meta Business Suite before 2024.
Consequently, the absence of essential performance data, such as impressions, presents a significant hurdle for brands trying to assess the value and potential ROI of their presence on Threads. 
This limited availability of data makes it challenging to determine what constitutes success on the platform. Furthermore, the nature of real-time conversations necessitates constant monitoring of content, posing an additional challenge for businesses on Threads. 
As of now, the lack of comprehensive data and the need for ongoing content monitoring present obstacles for brands seeking to navigate and measure their effectiveness on the platform.
2. Ads are not yet available on Threads
At present, ads cannot be run yet on Threads. This absence of sponsored content means there is limited knowledge regarding the platform's precise nature and functionality. 
Furthermore, the lack of advertising opportunities means that brands will not be able to tailor the audience that they want their content to reach. However, it does also present an opportunity for brands to reach previously untapped audiences. 
Meta is expected to prioritise user growth before integrating advertising on Threads. Nonetheless, once available, significant investment from larger brands is anticipated to flow into ad spend on the platform – likely through the Meta Ads Manager. 
For now, running ads on Threads is not possible for businesses. However, as the platform evolves and expands its features, it is highly likely that advertising options will become available in the future.
3. Threads has limited features at present
Currently, Threads has some limitations in terms of its features. Notably, it lacks discoverability elements like hashtags and keyword searches. These are integral to the open and expansive nature of platforms like Twitter. 
Although these aspects could potentially evolve in the future, their initial absence has raised concerns. Additionally, Threads lacks a search function, but the company has indicated plans to introduce this and enhance recommended posts. 
Another issue is the inability to fully delete a profile without deleting the associated Instagram account. The platform also lacks features such as post editing, language translation, and easy switching between different Threads accounts. 
Users have expressed the desire to view posts from accounts they follow rather than relying solely on the algorithm. However, a chronological feed option is currently unavailable. In contrast, Twitter offers a seamless switch between these two feed types.
As Meta focuses on app improvements for future versions, it might be more advantageous to join later. 
4. Threads could be an unnecessary distraction
For many small businesses, the allure of new and shiny platforms like Threads can be a tempting distraction. Achieving success on Threads requires a well-defined strategy and action plan. However, it's important to recognise that the platform is still in its early stages of development.
Joining Threads and effectively managing it demands energy and commitment. The time spent on the platform itself is not the whole story. The continuous activity required to establish a profile on Threads can drain valuable energy, which could be better utilised elsewhere.
Will you get a valuable return on investment from Threads? It's crucial to actively evaluate whether engaging with Threads brings more benefits than the distractions and resource allocation it requires.
Conclusion: Should your business sign up to Threads?
On the one hand, brands should want to be where the users are, and millions have signed up already. On the other hand, it could be a waste of valuable time and energy, especially for smaller businesses. But this should change as the app evolves its features.
When it comes to joining Threads, businesses must decide whether to fully commit or stay out entirely. The advantages primarily favour early adopters. So, it's essential to make a deliberate choice and develop a comprehensive plan to support it. 
While securing your username may seem straightforward, the real work begins afterwards. To ensure success, it is crucial to actively avoid hasty actions without clear intentions. Refrain from getting involved unless you have the readiness to follow through. Remember, success requires dedication and a focused approach.
Weighed up your options and ready to set up your Threads account? Look out for our next blog post, where we'll be guiding you through everything you need to know to get started.