The rise of paid verification on social media is becoming increasingly evident. Elon Musk launched Twitter Blue in November 2022, and now Mark Zuckerberg has announced Meta Verified. Whilst the concept of verification is not new, the monetisation of it certainly is.
In recent years, the world of social media has seen a rise in the importance of verification. Being verified on social media platforms like Twitter, Instagram, and Facebook is a status symbol that signifies a user's credibility and importance. 
With the rise of fake news and scams, verification has become more significant than ever, as it helps users identify authentic accounts and content.
Verification used to be a relatively straightforward, process involving submitting an application and providing proof of identity or affiliation with a reputable organization. 
However, the rise of paid verification has sparked controversy and debate among users and marketers alike. In this article, we've got the lowdown on the benefits and drawbacks of these new schemes, and how they could impact the social media landscape.
Why are social media platforms charging for verification?
Social media firms are facing mounting scrutiny for the way they handle users' data. 
The concept of 'free' social media platforms comes at a cost – some may even go as far as to say users' data is the product. But people are becoming more aware of this and taking action.
Apple's new privacy feature, for instance, has given users the power to opt out of being tracked online. The response has been overwhelming. Meta has relentlessly expressed their immense frustration with the feature.
So, with tighter privacy legislation and changing user attitudes putting revenues at risk, social media firms are looking at other ways to generate income.
With Elon Musk's recent success in launching a paid social media subscription, it's clear that consumers are willing to pay for an enhanced experience.
And now that Meta has joined Twitter in introducing paid verification, the question becomes: is subscription the answer? And how much are consumers willing to pay for a better social media experience? 
To fully understand the impact this will have on the social media landscape, let's go into each subscription service in more detail.

Twitter Blue: where paid verification started
Twitter has been a pioneer in the world of social media verification, with its blue checkmark badge being a symbol of credibility and authenticity. 
Last year, Twitter announced the introduction of paid verification services as part of its new subscription service, Twitter Blue. Twitter states that the blue checkmark "will appear on eligible profiles after a review to ensure subscribed accounts meet all eligibility criteria."
Most of the debate sparked by this move has been split into two sides. Some argue that paid verification is a necessary step to ensure credibility and authenticity on Twitter, while others see it as a sign of elitism and exclusivity.
Alongside the checkmark, Twitter Blue also includes the following features:
Edit Tweet: Edit your Tweets in a 30-minute window after they've been sent

Bookmark Folders: Organise an unlimited number of bookmarked Tweets into folders

Custom App Icons: Change the way the Twitter app appears on your phone

NFT Profile Pictures: Display your NFT as a hexagon-shaped profile picture

Longer Tweets: Up to 4,000 characters

Longer Videos: Upload videos that are up to an hour-long

Prioritised Ranking: Twitter will prioritise your replies on Tweets you interact with

And many more.
Pricing for Twitter Blue is different depending on the device you sign up on, the country you're in, and how often you pay. In the UK, for instance, it costs £11 per month or £114.99 per year on mobile, and £8 per month or £84 per year on the web.

How will Meta Verified work?
Meta Verified will include both Facebook and Instagram. The move is part of a wider effort to increase transparency and trust on these platforms, and to help users stand out from fake accounts and scams. 
Authenticity is becoming a bigger focus on social media, so this will be a welcome change for some.
The cost of Meta Verified will be $11.99 (£9.96) per month for those who sign-up on the web, or $14.99 (£12.45) for iOS users.
Under the new scheme, users will be able to apply for verification by submitting their ID, along with proof of address or business documentation. 
Once verified, users will receive a blue checkmark badge next to their name. This indicates that their account has been confirmed as authentic.
The subscription service will also include increased reach and priority access to customer service. It's being launched in Australia and New Zealand right now and will be available elsewhere soon.
How does paid verification work in practice?
Many of the users who are in favour of paid verification say that it has helped to legitimatise accounts. Businesses, for instance, may find it particularly useful.
By paying for verification, users can demonstrate their authenticity and credibility. This is particularly important for businesses and influencers looking to establish themselves in crowded industries.
On the other hand, there have been some discrepancies. A couple of weeks ago, BBC News Tyne & Wear published an article about a tweet from Will Ferrell.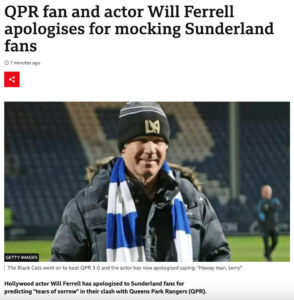 The article was based on a Tweet that displayed the actor apologising to Sunderland football fans following his preferred team, the Queens Park Rangers, losing a match.
The Tweet in question, however, was not from Will Ferrell at all: it was from an account parodying him. It did have a blue tick, though – because it was subscribed to Twitter Blue. The article has since been removed.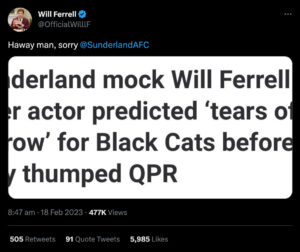 Whilst this is a humorous example, it does raise questions about paid verification.
The BBC was misled by a Twitter Blue user impersonating someone else. So, we can only imagine how perplexing this could be for regular users who rely on verification as an indicator of a genuine user.
As such, it's clear these platforms have some way to go to ensure paid verification is used appropriately. Perhaps this is why Meta has chosen a slower approach to roll out its Meta Verified service.
Conclusion
Overall, Twitter Blue and Meta Verified represent a significant attempt to implement greater transparency and accountability on social media. 
While the move has its critics, it could help to improve the authenticity of social media content. It could also restore trust among users, as well as being a helpful tool for businesses.
If Meta Verified becomes a success, we may see other platforms adopt a similar strategy. 
Perhaps we are seeing a change in business strategy. In the future, will the focus be on bringing in revenue through user subscriptions, rather than targeted ads?
Ultimately, the success of paid verification will depend on its implementation, and the willingness of users to pay for it.