During January, WhatsApp has been in the spotlight as a result of its new privacy policy. The update, mandatory for users, allowed the app to share user's information with Facebook.
The controversy around the new change caused that the platform decided to postpone the changes, planned to be applied from February 8th to May 15th to "make sure users have plenty of time to review and understand the terms".
We will make sure users have plenty of time to review and understand the terms. Rest assured we never planned to delete any accounts based on this and will not do so in the future.

— WhatsApp (@WhatsApp) January 15, 2021
In addition, as a result of the polemic, the app experienced a sudden drop in new downloads while millions of users turned to its direct competitors.
Gathering users' data for advertising purposes, encouraged users to start exploring new social media channels to protect their privacy. That's why in this blog we will show you six alternative platforms your business should keep an eye to market to your customers.
Signal
Signal is one of the most popular alternatives to WhatsApp. It's built with security and privacy in mind (as it's open-source and uses end-to-end encryption), and includes all the features you would expect from a messaging platform.
This app can be relevant for your business as it's becoming more and more popular among users, especially among those concerned about their privacy. Indeed, after Elon Musk recommended Signal on Twitter, the app experienced a considerable jump in downloads.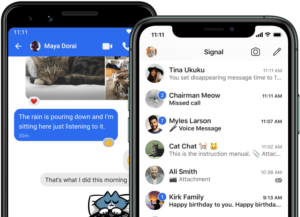 Nextdoor
Nextdoor is a platform that connects people from the same neighbourhood. Unlike other social media networks, they foster local relationships between neighbours and connect them with local companies and communities. According to Nextdoor, 88% of members shop at a local business at least once a week. That's why it has become a fantastic solution for small and local businesses, as they can be discovered by potential customers who live nearby.

Ello
Ello is a Pinterest-like social media network that grew fast after the #deletefacebook movement. Although it lacks essential features such as private chat boxes, it's an ideal platform for artists, photographers and creative businesses as it focuses on visual, high-quality content. Moreover, their commitment is not to include ads in their platform and not selling users' data to third parties.

Clubhouse 
Clubhouse is an audio-based social networking that could be considered the sum of the concepts of podcast and streaming. As mentioned in our previous post, voice content is becoming a significant trend in 2021 and no wonder Clubhouse is becoming more and more popular. Still in beta test, it's organised in chat rooms or spaces where users can join and talk in real-time about different topics. For now, you need an invitation to use the app, but it opens up a new way for your business to engage and connect with your audience.

Mewe
Mewe is a social media channel with no advertisement and specially focused on personal privacy. It's considered one of the main alternatives to Facebook because it includes almost the same features and interface. It also contains a Slack-like tool that can help you and your team communicate and collaborate better remotely.

Vero 
Vero is a subscription-based social media network that enables users to share content with friends, acquaintances and followers. Moreover, to provide a major social experience, it has the following characteristics:
It has no ads.

It doesn't gather data from users.

It doesn't use any algorithms.
For that reason, the platform has become an ideal space for small businesses. The lack of algorithms allows their followers to see their content without usual restrictions caused by algorithms. However, the platform also doesn't allow advertising which means businesses cannot take the advantage of specialised targeting and extensive data usually available on other platforms.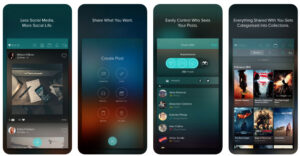 Check out the full infographic below: