We're living through a very uncertain and troubling time. However, this isn't a time to sit back and wait until the crisis is over. In every change, there is an opportunity.
 Where more people are at home, more people are online. And where more people are being forced into isolation, more will be looking to connect with others through social media platforms. We're taking you through our tips for making the most of your social media marketing during a time of crisis, with infographics for the stats.  
Create a strategy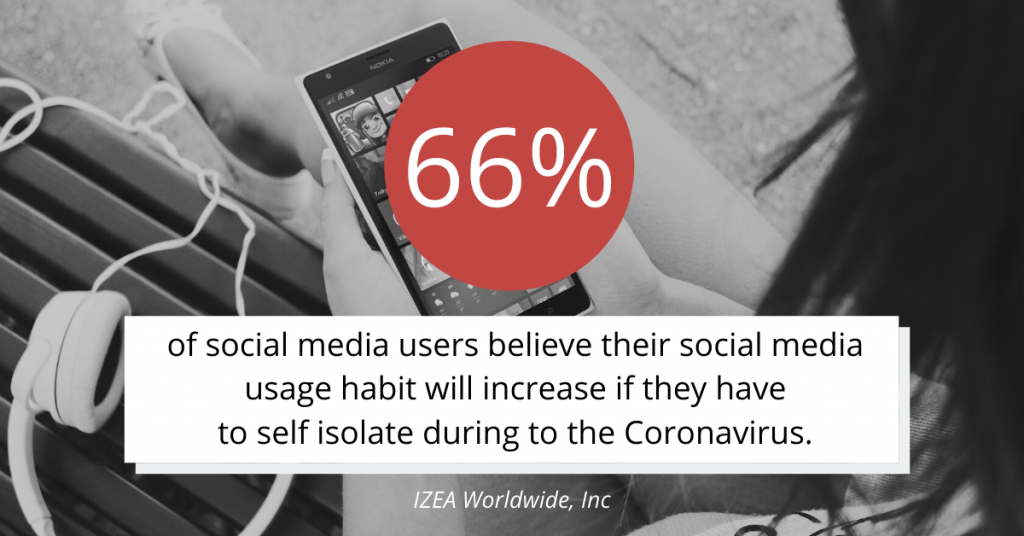 According to IZEA, 66% of social media users believe they will spend more time on social media when they are confined to their home due to the Coronavirus. If numbers are increasing, the last thing you want to do is to stop focusing on your social media marketing strategy. Now is the time utilise your social media platforms. Where face-to-face sales are declining, social media's are likely to increase. This is the time to perfect your social strategy, and what's more, this can be done remotely!
You don't want to miss out on a surge in social media usage. It may be the only advantage to come out of this crisis marketing-wise, so use it! Push social media content, start an advertising campaign if you haven't already, interact with your potential customers. 
Promote your products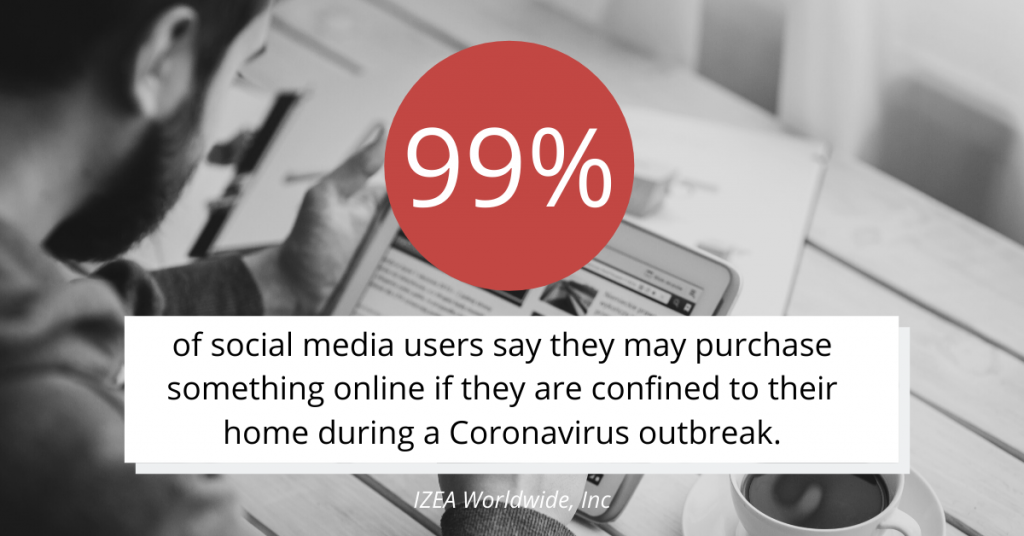 Keep your customer's updated about how the Coronavirus is affecting your business, but also, don't forget to talk about your product and services. Your customers may see it as a nice break from the streams of coronavirus news and be more likely to engage. A staggering 99% of social media users believe they might purchase something online if they are confined to their home during the outbreak (IZEA). If you have a product that could be beneficial to people during self-isolation, then push it! 
While people are stuck at home, they may be looking to do more DIY, cooking, crafts or starting a hobby they have long been putting off. Where shopping is becoming more difficult, subscription boxes will be more appealing. Focus on what your potential customers will be wanting while in isolation and adapt your strategy accordingly. If your product can't be used during the outbreak, then get your audience planning ahead. Remind them that this crisis will eventually come to an end, and when thinking about life after the outbreak, they should also be thinking about purchasing your product. 
Connect with your audience
According to Buffer, 21% of remote workers say that the biggest struggle of working remotely is loneliness. This number will only increase as workers are practising social distancing and isolating themselves from others. What better time to connect with your consumers? Take this time to interact with your audience. It doesn't have to relate to your business directly. Ask them how they're doing and share tips for working remotely or even join in on trending memes. By creating a connection with your audience during a difficult time, you are building a rapport, something they will remember when the crisis is over and are looking to purchase again. 
Advertise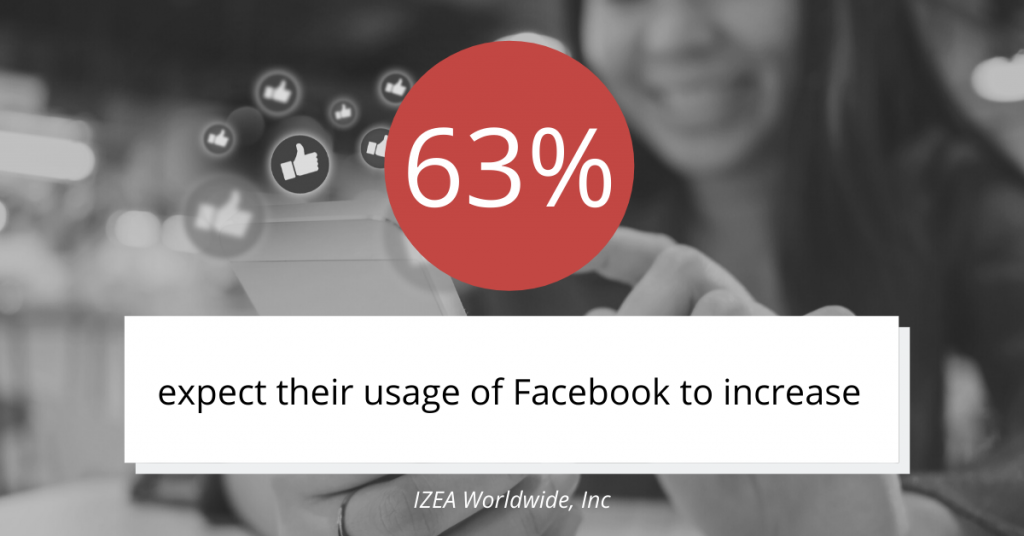 According to IZEA, 63% of individuals are expecting their usage of Facebook to increase during the coronavirus outbreak. Take this opportunity to begin an advertising campaign. Our advice? Don't think you have to make it about Coronavirus. Consumers will likely respond to seeing something different on their timelines. Consider your consumer's needs; they will have changed dramatically in the last few weeks so adapt your campaign accordingly. And lastly, be sensitive to the situation. Keep in mind what everyone is going through and while you don't have to mention the outbreak, do so if you feel it's necessary for your business. 
We're all going through a difficult time at the moment. And with further quarantining measures likely, we can expect an increase in our social media usage. While the Coronavirus has drastically changed the way we are doing business, make sure you are taking advantage of this opportunity. Create a social media strategy, start advertising online and where people are feeling more distant than ever, make an effort to connect. 
If you're looking for guidance on creating a social media marketing strategy during the coronavirus outbreak, call us on 07852657935 or click here.