Twitter first launched Spaces in November 2020. That's quite a while back, how come we're only hearing about it now?
Twitter only granted this ability to accounts with 600 followers or more. Fast forward to October 2021, Twitter ditched exclusivity and granted every single user the ability to host Spaces.
Since then, Spaces has skyrocketed in popularity – definitely joining the list of Social Media Trends for 2022. There's a Space for any and every topic and conversation, from small and intimate to millions of listeners.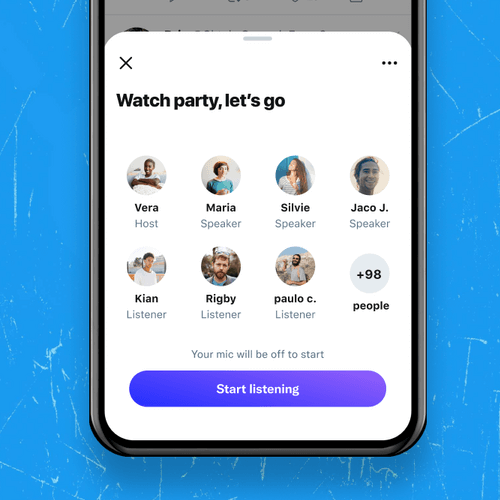 Twitter Spaces may seem like a niche platform geared towards influencers and to make watch parties for a Netflix binge, but there's value in it for businesses too. 
Spaces has become an amazing tool for communication – it's easy for users to jump in and listen to experts and industry leaders chat about their opinions and perspectives in real-time. There's no need to register, no waiting around to join, and Spaces is already integrated into a social media platform. In short, it's the perfect place for businesses to reach out and address their customers on any relevant topic, live!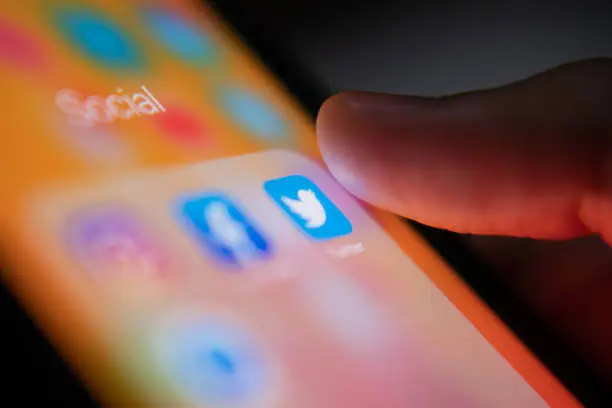 We've talked about how Twitter can benefit your business. In this blog, we're giving you three ways to use Twitter Spaces for you to engage with your customers, and build an authentic community.
Live Podcast
Podcasts have risen in popularity in recent years; you can do just about anything while listening, with topics ranging from true crime to sharing favourite recipes. All in all, there's a podcast out there for everyone, so what's stopping you from making one of your very own?
Twitter Spaces is the perfect place to host a live podcast episode. Whether you're a podcast expert or you've never sat in front of a microphone, Spaces has an easy set up and distribution system to get the ball rolling.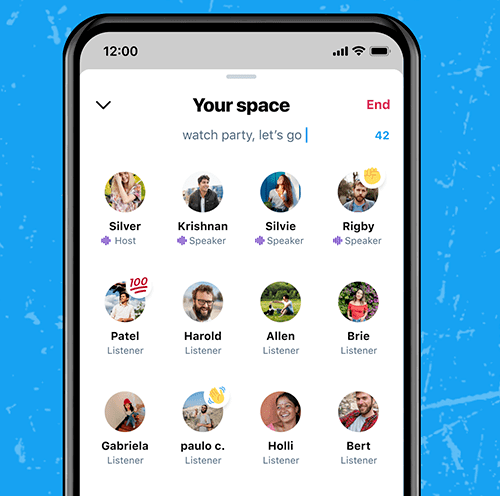 Twitter is constantly continuing to test podcast-like features, like Spaces Recordings: a feature that will let hosts share tweets with audio recordings of past Spaces. With this continuous evolution, we could see more and more podcasts setting up shop on Twitter Spaces in the future.
Q&A/Live Debate
Everyone loves a good old debate, and we love them even more when they're done live. Twitter Spaces is a great place to host debates and Q&A sessions – Bringing in experts to discuss key trends, issues, and field questions is an excellent way to use Twitter Spaces.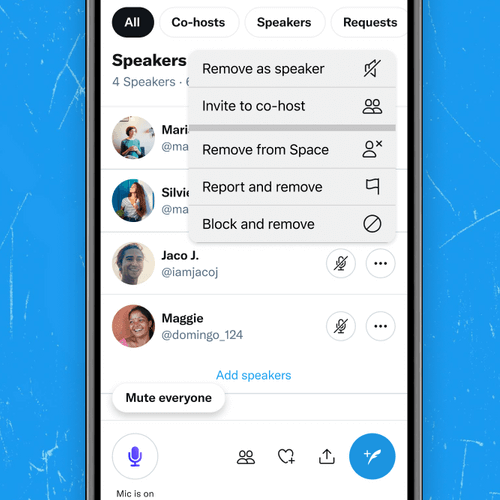 When you host a Twitter Space, you have the power to invite co-hosts and speakers, as well as removing them. When planning your Q&A or debate, you can decide on discussion topics, hosts, and potentially even line up Speakers in advance.
With an easy set-up, you just simply tap on each participant to make them a co-host or speaker. You also have the power to mute everyone if you have a very important segment that you don't want interrupted.
Product Releases/Drops
Do you have a new and exciting project, product or campaign to share with your customers? Twitter Spaces could be the perfect place to do just that.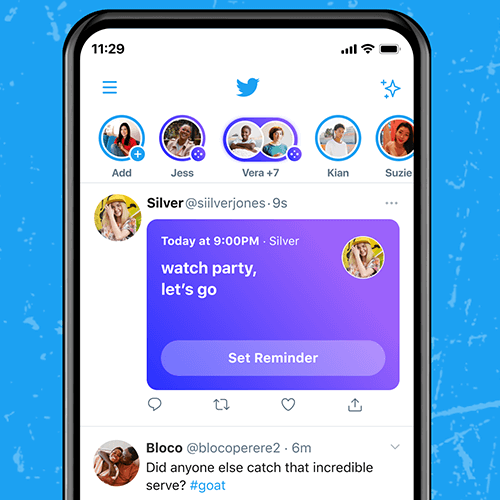 Live audio gives you the ability to generate excitement, optimism, and enthusiasm on behalf of your business, which in turn creates excitement for your customers who are jumping in to listen.
When your Twitter Space goes live, you can also share it to your Twitter Feed with a catchy and engaging title; perfect for your next product drop!
As a result, businesses should be able to connect immediately with their customers and gain immediate response and feedback when presenting new ideas and initiatives – no more waiting around to see if your new project or campaign snags any bites!
Final Thoughts
As we've said before, Twitter is a one-of-a-kind promotional tool with a lot of potential for businesses searching for a different approach to engage with potential clients. Twitter Spaces is the new way to approach your clients in the most authentic way possible.
Spaces is growing in popularity, so now is the best time to give it a try and see what results you gain from it. 
Even if you're scared of making that leap into the world of live audio, remember one thing: there will be a Twitter Space for everyone, just like hashtags and podcasts.