YouTube is one of the most popular social media platforms worldwide. Currently, it has around 1.86 billion users on the platform who either create content or stream it. YouTube allows the ability to create and upload different forms of video content, for example commentary videos, "Top" list, and How-to (tutorials). Now Youtube is currently testing a new way for organisations to create content, called YouTube Shorts.
The origins of YouTube Shorts
In September 2020, YouTube added a new feature to the YouTube App called 'Shorts'. With the increasing popularity of short video content, the new feature's design was to rival TikTok and Instagram Reels. With the success of the beta in India and the introduction into the United States in March 2021, the beta surpassed 6.5 billion daily views. Today, YouTube Shorts beta is now fully accessible in over 100 countries, including the United Kingdom.
What is it?
According to the official YouTube blog, YouTube Shorts "is a new short-form video experience for creators and artists who want to shoot short, catchy videos using nothing but their mobile phones".
Equipment needed for creating YouTube Shorts
Before creating any videos, users will need the following pieces of equipment:
Any smartphone or Tablet

A YouTube Account

The YouTube app
Depending on the content produced, extra equipment such as lighting, props, or high-end editing software, might be needed. However, the bullet points listed above are essential for starting and creating videos.

How to create YouTube Shorts
With YouTube Shorts, users can create videos only needing to use their mobile phone. Furthermore, all videos must be vertical, last between 15 – 60 seconds long and have #shorts in the video's title or the description box. Once a video is created and uploaded, it is there to stay, unlike Instagram Reels or stories from Facebook and Snapchat.
To create a video from the start, open the YouTube app and click on the (+) button located at the bottom. From here, select the option to create a short. Once opened, you can start to record the video.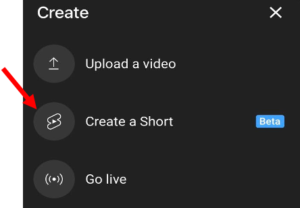 To help make the Shorts engaging, creative, fun, relevant, and visually pleasing, YouTube offers the following options:
Add music – This option allows users to select a song. Users can then browse the latest top trending songs such as STAY by the kid LAROI and Justin Bieber or Bad Habits by Ed Sheeran. Another option is available for users to search for a specific song.
Flip – The flip option allows users to choose between the front or back-facing camera.
Speed – The speed option allows users to speed up or slow down each recorded clip.
Timer – The timer option allows users to set a timer to go hands-free when creating the Short. You can have the countdown options of 3 seconds, 10 seconds, and 20 seconds.
Filters – The filter option allows users to select different filters to put on their Shorts.
Green screen – The green screen option allows users to add an image from their camera roll to their video.
Once filmed and edited and before clicking the upload button, users must add the finishing touches. Users must select one of the following options, 'Is this video made for kids?' or 'do you want to restrict your video to an adult audience?.

How YouTube Shorts and TikTok are similar
YouTube shorts and TikTok are very similar in a few different ways. Firstly, both platforms allow users to create short videos on any topic providing that they stick to each platform's respected community guidelines. Finally, they enable users to add music, text, set a timer, or change the speed of the video.
What are the differences between YouTube Shorts and TikTok?
Although both platforms have some similarities, they have some differences as well. TikTok offers augmented reality filters to add more to the user's content, whereas YouTube Shorts does not have this feature. However, YouTube Shorts are looking to add a feature that allows users to add audio from other YouTube videos already on the platform.
Another difference is that TikTok is a traditional social media app that allows users to send videos and communicate directly. In contrast, YouTube is not formatted for this type of communication.
One final difference is that YouTube Shorts is not an individual app, unlike TikTok. This may generate less buzz for YouTube Shorts content as not having a dedicated app prohibits users from quickly accessing short video content instantly, and users may stick to TikTok.

Turning video content from other platforms into YouTube Shorts videos
Most organisations that create video content will more than likely upload the same video to social media platforms like Instagram and Twitter. To turn a video made for another platform into a YouTube Shorts video, all that is required is to:
Have an aspect ratio of 9:16
The video is changed to a vertical orientation
The video is less than 60 seconds
Have #shorts included in the title of the video or the description
How YouTube Shorts appear on your YouTube Channel
Any YouTube Shorts video created and uploaded will appear on your channel like any other standard video already posted. Every time a Short is posted, the video will appear in your subscriber's subscription page like a regular YouTube video.
What makes a good YouTube Shorts video
There are a few ways to ensure that all Shorts content is of good quality and that has the potential to go viral:
Ensure that all videos are under 60 seconds
Use hashtags that are relevant to the content that users will post
Conduct research on what are the popular trends
Use current and up to date music
Upload Shorts videos regularly
Final Thoughts
Although YouTube Shorts is still in its beta stage, the success from India and the United States shows that short videos can go viral, forcing organisations to learn and adapt to how consumers are watching content and how they are taking in the information from the content. By understanding the latest trends in video consumption and content creation, organisations can capitalise and move ahead of competitors by meeting and satisfying the needs of consumers, attracting new customers, building a more extensive following, increasing their online presence, and overall brand awareness.