There are currently 8.4 million British consumers shopping via Social Media, according to PayPal. There are more and more customers turning to Facebook, Instagram and Snapchat to search for products online. And next week we have one of the biggest events for online- buying: Cyber Week. Cyber Week is the week of Thanksgiving. The 29th of November is Black Friday 2019 and following it on the 2nd of November is Cyber Monday – a day dedicated to giving consumers superb online deals. 
Black Friday and Cyber Monday are a fantastic opportunity to boost sales, attract new customers and increase your reach. With the number of UK businesses selling products through social media expected to double in the next six months, you don't want to be left behind. It's hard to be heard in such a crowded space, so here are some great Black Friday campaigns to inspire you.
Giving back for Black Friday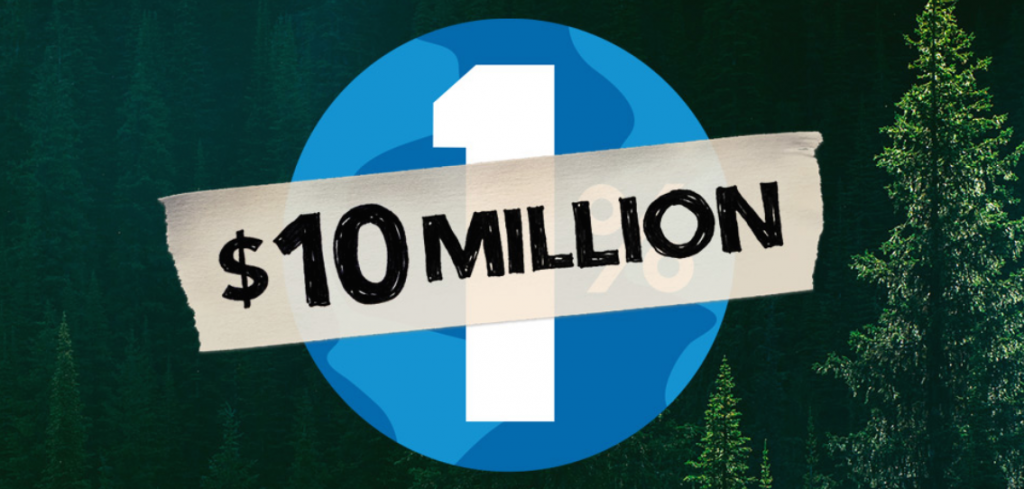 Black Friday doesn't just have to be a day dedicated to an online sales boost; it can also be an excellent opportunity for increasing brand awareness. Patagonia reached record-breaking sales back in 2016, but they gave 100% of their sales to charities working to protect our air, water and soil. Patagonia has always supported environmental causes, but on Black Friday, they raised $10 million for grassroots charities. What better way to stand out from the crowd than to do something completely different? By giving up what would have been their most important day of sales, Patagonia showed their dedication towards the cause, increasing their brand awareness and their authenticity. 
Not missing out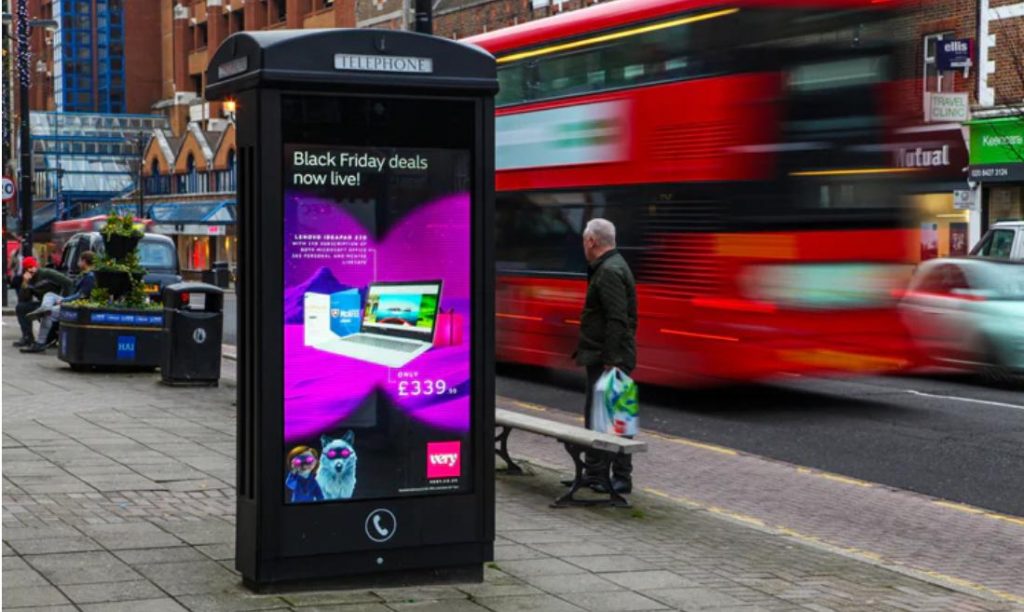 Back in 2018, Marketing Week claimed that the online retailer Very.co.uk 'won' Black Friday. How? Very has no high-street presence but didn't want to miss out on the massive opportunity Black Friday gives physical stores. They used outdoor ads as digital shopfronts, which delivered high ROI. While Cyber Monday is dominated by online shopping and Black Friday retail shopping, that's not to say there's a vast opportunity in both days, no matter if your business is digital-only. Very is an excellent example of how to make the most out of both days. If you're a digital company, don't limit yourself to digital-only ads. The same goes for physical-only businesses – make the most of digital and bring more customers into your store. 
Driving sales through Email Marketing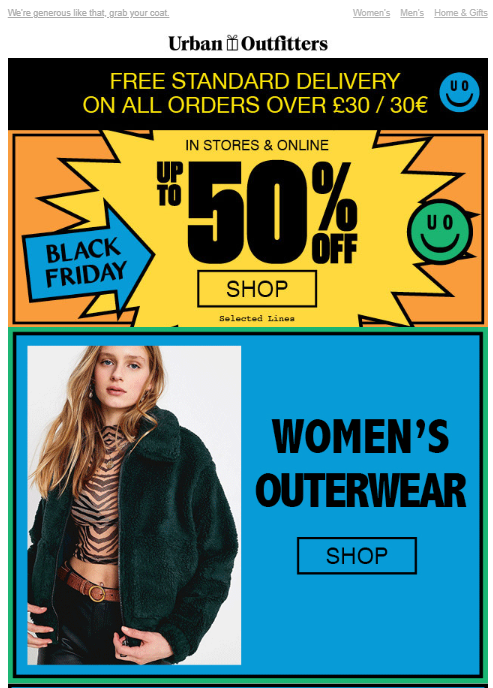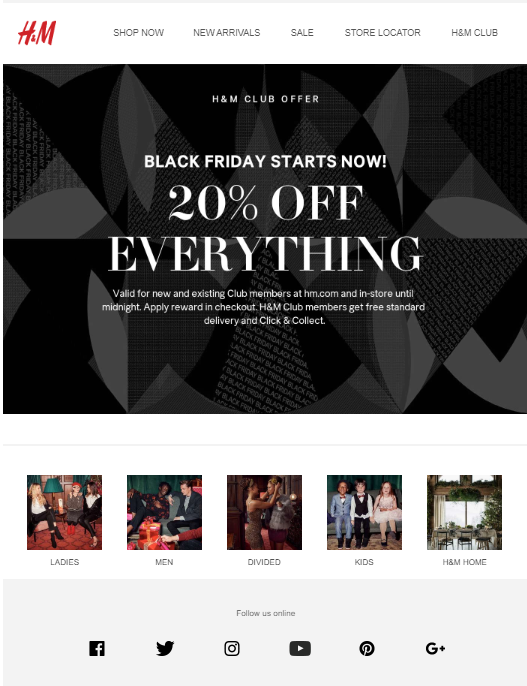 According to BlackFriday.com, clothing is the top shopping category for Cyber Week. More than 40% of customers say they'll shop for fashion this year. One way that fashion rules Black Friday is through brilliant email marketing campaigns. Email Marketing is an excellent tool for driving online sales and also a great way of rewarding current customers. Take a look at this H&M Campaign, they released discounts early to club members, rewarding customers while also getting potential sign-ups. Urban Outfitters released numerous campaigns throughout the weekend – the deals are exciting, the email eye-catching with an animated carousel of clothes on offer and plenty of CTAs (Calls to action).
A short and catchy subject line is essential to a great Email Marketing Campaign. Here are a few examples from last year to inspire you:
TODAY'S BLACK FRIDAY PICKS: Up to 50% OFF Coats & Jackets!! – Urban Outfitters
Club members: Black Friday starts NOW! – H&M
Drop everything… BLACK FRIDAY is here! 🖤 – Forever 21
NEW LINES ADDED TO THE BIGGEST EVER BLACK FRIDAY SALE! – Newlook
When creating the perfect Email Campaign, make sure that the offer is something that will genuinely be of interest to most of your audience. And especially for the big day, create a sense of urgency. Let the reader know that the offer is only for a short time or that stock is limited. Make sure your email has plenty of CTA's so your reader is more likely to make a purchase. 
Anti-Black Friday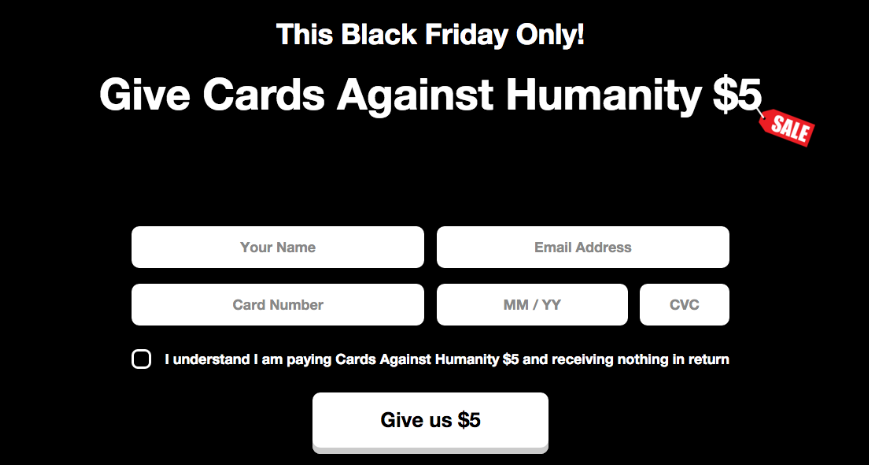 Cards Against Humanity are well known for their controversy, and they don't disappoint on Black Friday. They have a long history of making creative Black Friday pranks, and making money from them! Back in 2013 they actually increased the price of the game by $5 and sold more games than usual. A couple of years later, they offered people absolutely nothing for $5. That's right; they offered their customers a $5 sale on nothing and over 10,000 people did it! Last year, they released their 99% off sale prank, selling some hilariously obscure items such as a cardboard cutout of Orlando Bloom and a $20 bill for $0.20. It just goes to show, do something a little different, and your customers will respond. Not only that but this anti-Black Friday campaign is very on-brand and reinforces their controversial yet hilarious brand image. 
Creating your perfect Black Friday campaign. 
Black Friday and Cyber Monday are a fantastic opportunity to drive sales, reward loyal customers and create brand awareness. Promote your campaign across Social Media channels alongside relevant blogs and email marketing. Black Friday is the biggest day of next week's Cyber Week, so take advantage of it. Plan ahead, create an offer that will stand out for from your competitors and get prepared for the Black Friday mayhem!
To keep up to date on our blogs and the latest Social Media trends, sign up to our newsletter!