LinkedIn is the only professional social network in the world. With more than more than 500 million users and 45 million decision makers, this platform gives you an excellent opportunity to reach your potential clients. In fact, 80% of leads that B2B marketers source through social media come from LinkedIn. Therefore, if your business is also B2B, you should certainly consider using LinkedIn Advertising in your marketing strategy.
Where do you start?
The first step is to set up your own LinkedIn profile and then a company page. A company page is where LinkedIn users can find information and updates about your business. You can also create a Showcase Page, which is an extension of your company page and allows you to highlight a specific brand or services. Once that's done, you should create a Campaign Manager, which will enable you to manage and monitor all your advertising activities on LinkedIn. Here, you can view all your ads, demographic categories and analyse the data.
What Ads formats should you use?
It all depends on what you want to achieve and how you want to reach your clients. There are three advertising formats on LinkedIn:
Sponsored Content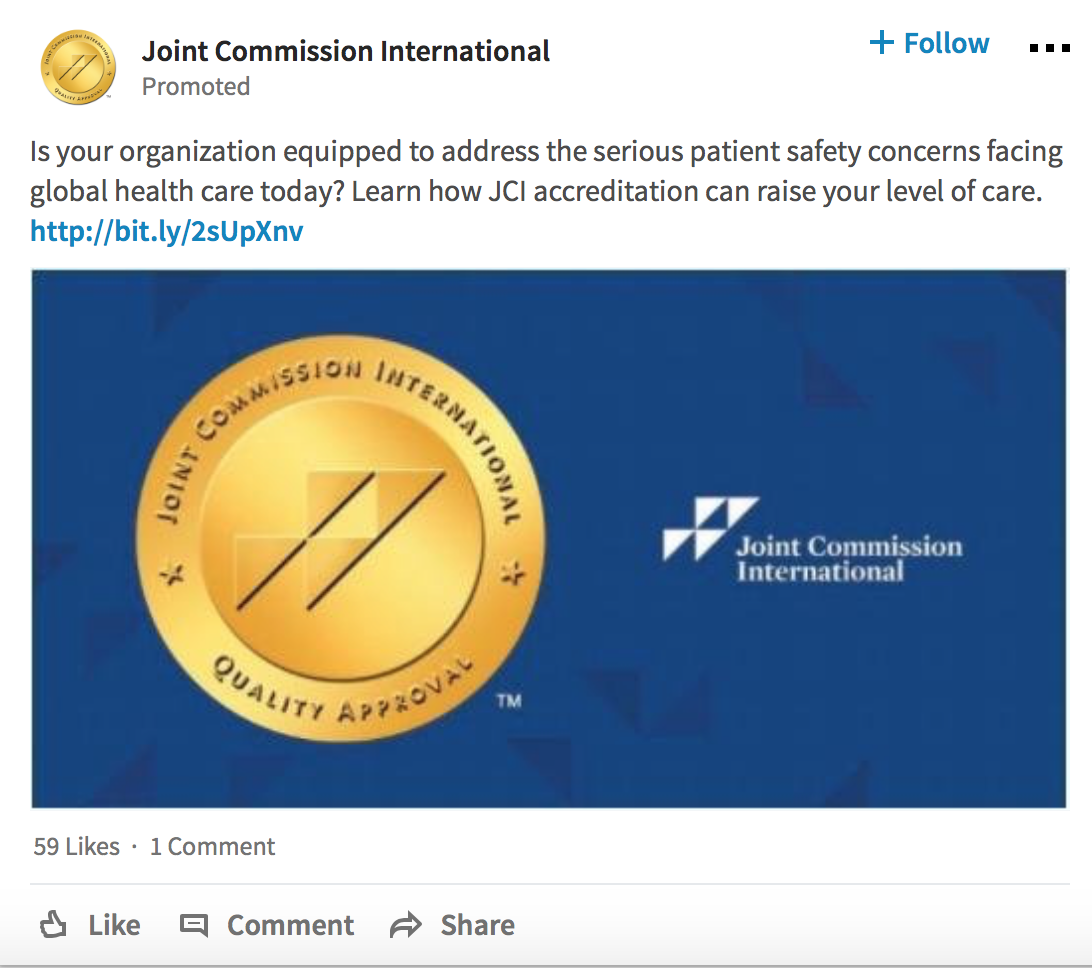 Sponsored Content is a type of an ad which appears on your network's News Feed. It's a great way of raising the brand awareness, boosting an engagement and interacting with your target audience. You can choose to sponsor updates from your Company Page or your Showcase Page. However, you won't be able to edit it. Alternatively, you can create new sponsored content, which allows you to customise an update that will be seen only by the audience you targeted.
Text Ads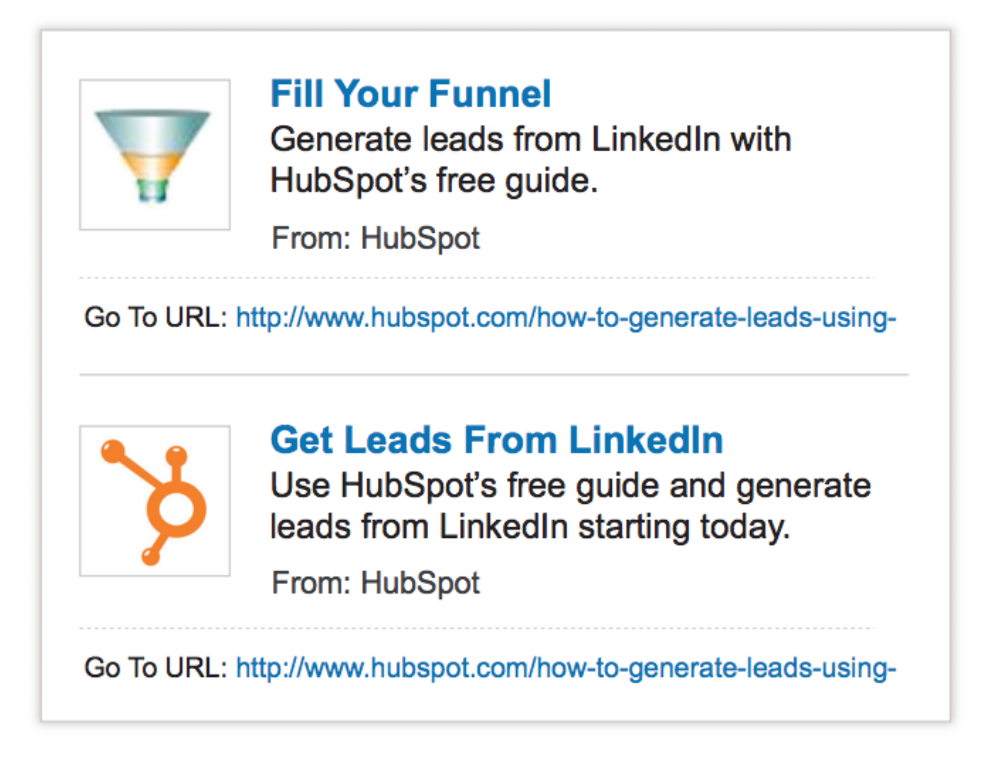 Targeted Ads are pay-per-click (PPC) or cost-per-impression (CPM) ads.You can find them on the right side of the News Feed. Text Ads allow you to drive people to your company page or a website. You can customise the image, a headline (up to 25 characters), and a description (up to 75 characters). You'll be able to see the preview before the ad goes live. LinkedIn allows you to create a maximum of 15 Text Ads so you can monitor and analyse which ones work the best for your business.
Sponsored Email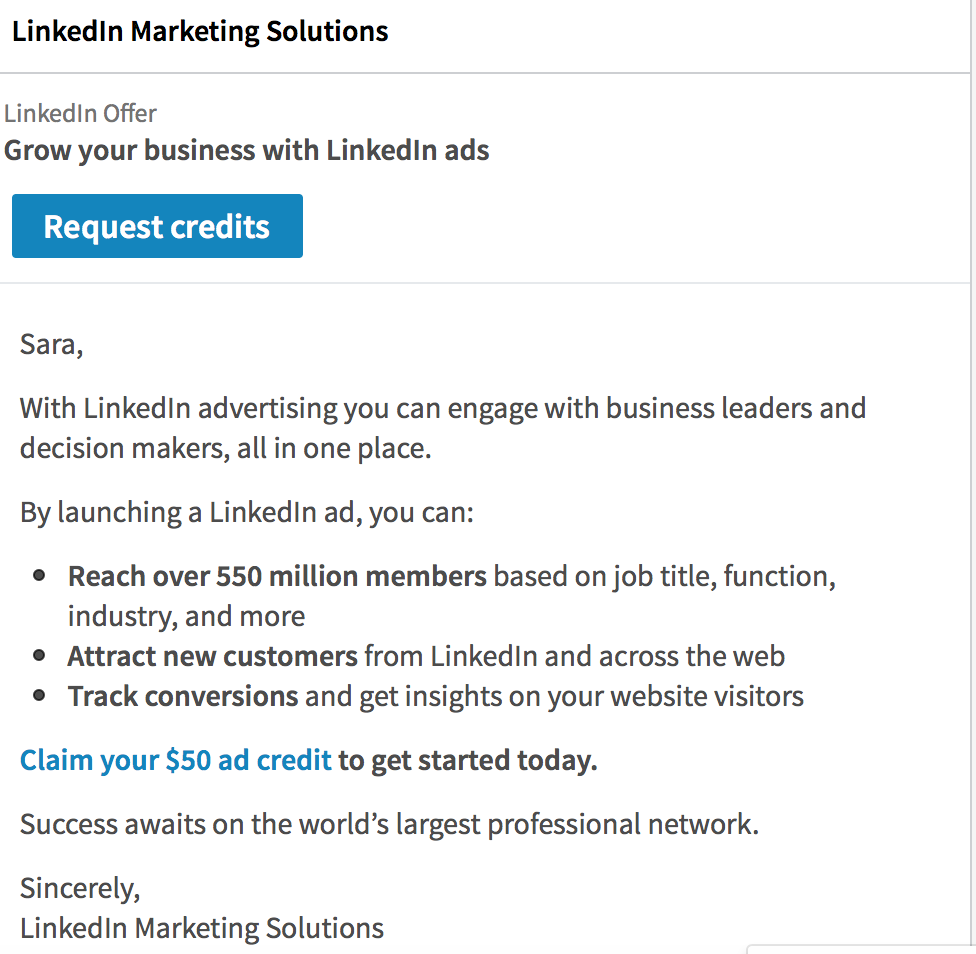 On LinkedIn, you are only allowed to contact people that are in your first or second-degree connections. Sponsored Email enables you to send a message to everyone you target, even if they're not in your network. You can customise your message, subject line, sender's first name and profile image.
Targeting options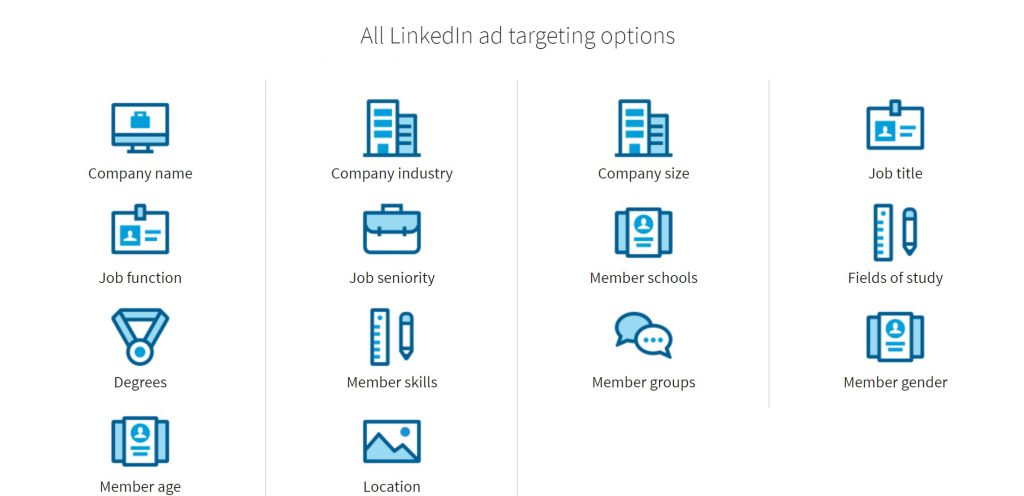 Targeting options are the same for all types of adverts. Do not ever overlook this section as it's probably the most crucial aspect of your advertising campaign. A lot of people make a huge mistake by trying to target as many people as possible. They think that this will help them to find a lot of potential clients, but this is not the case. When it comes to Social Media Advertising, you should be as specific and as narrow as possible. You want to reach only people that matter to you the most. LinkedIn Advertising is expensive in comparison to other social media platforms. Therefore, you should choose to focus on those customers segments that are more likely to convert and bring you a high ROI. You can target people by selecting their gender, location, company name, industry, their connections, job titles, skills, education and years of experience. At the bottom, you'll find an option to include similar audiences through Audience Expansion and reach audiences beyond the LinkedIn news feed.
If you want to target people who have already interacted with your company, you can advertise using Matched Audiences (it's an equivalent to Custom Audiences on Facebook). This option allows you to reach people who visited your website, contacts from your company database or through data integration.
Budget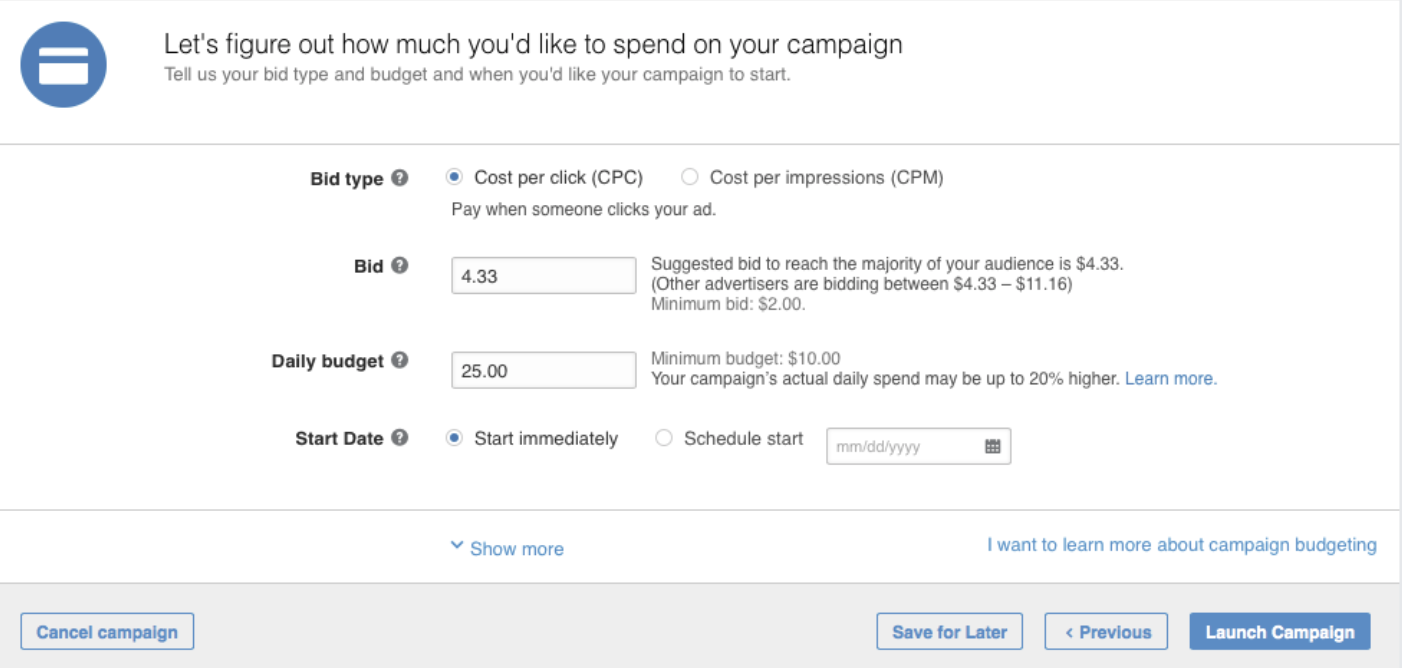 Now, you chose the right target audience for your campaign; it's the time to set up your budgeting. Here you have three options: cost per click (CPC); cost per impression (CPM); or cost per send (CPS). CPC ads are usually used with Text Ads when a goal is a lead generation, driving more traffic to your website or events signs ups. CPM is excellent for ads that aim to raise the brand awareness and engagement. CPS is used in Sponsored Email campaigns: you get charged every time your message is successfully delivered to the recipient. LinkedIn also lets you choose the time of your ad, daily budget and your suggested bid. LinkedIn Advertising works like an auction: Your ad will compete with all other ads that target the same audience. Interestingly, it's not always about being the highest bidder but your advert's engagement.
Monitor your results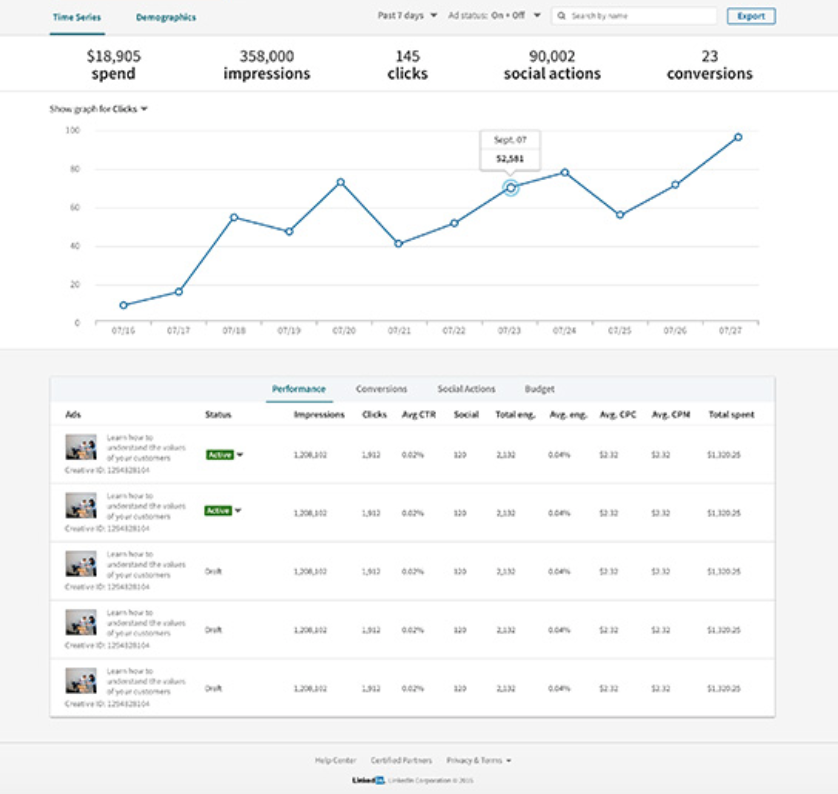 Now your advert is all set you should monitor your results. LinkedIn Advertising provides you with metrics in Campaign Manager where you can see how all your adverts are performing. Don't worry if you don't see results at first. Social Media Advertising is all about experimenting and identifying what works and what doesn't. For that reason, LinkedIn allows you to edit your campaigns, refine your targeting and adjust the budget to ensure that you make the most of it.